Welcome to TheFilmEditor.com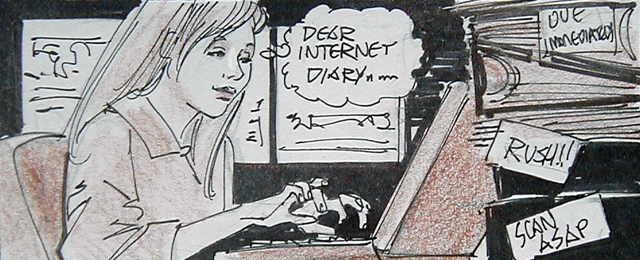 Janelle as a storyboard, drawn by Mike Vosburg
Janelle Ashley Nielson began her career in the film editing world shortly after graduating from U.C. Irvine with a degree in Film Studies. Working her way up through the ranks from an apprentice to assistant to first assistant to additional editor to Editor, Janelle's experience ranges from cutting feature films to animatics editing to reality TV and more.
Janelle has worked on such films and shows as "The Chronicles of Narnia", "Real Women Have Curves", "Pumpkin", and "Entourage". She is currently editing the hit reality series "Kendra" on E! as well as "Holly's World". Prior to that she cut many seasons of hit series such as "The Girls Next Door" on E! and National Geographic's "Dog Whisperer with Cesar Millan". Previous to that, she cut the second season of the FOX reality TV series "Trading Spouses". She has had the pleasure of working with great directors and producers such as Andrew Adamson, David Lynch, Dennis Dugan, Kevin Smith, Julian Farino, Linda Berman, SueAnn Fincke, Jim Milio, Patricia Cardoso, Michael Chapman, and many more amazing filmmakers.
She credits much of her creativity and editing talent to her mentors, who each added different points of views on how to edit, and who each taught her invaluable knowledge not only about the art and craft of editing, but also about cutting room "collaboration". Janelle's favorite part about editing is creating something interesting and intriguing for viewers to watch, and being able to make someone laugh, cry, or clutch their seats in anticipation. She also believes that an editing room filled with fun, laughter and creativity is one that will produce the best work!
This website is also a resource for the film editor and assistant editor. Here you will find useful film and tv editor resources such as film editor jobs, personal sites of other editors, editing technical tips and articles about editors, and other film industry related internet resources. If you would like to contribute an article to this site on a film editing related topic, please contact Janelle.
For a list of questions and answers sent to Janelle about film editing, visit