My New Zealand Travel Journal
Below are my journals from my trip to New Zealand in 2004. I flew to New Zealand to help set up the production editing rooms in Auckland for The Chronicles of Narnia: The Lion, The Witch, and The Wardrobe. After my job was done I was able to travel the country, and this is my story. For anyone who has never been to New Zealand, I highly recommend this place as one of the best countries in the world..for beauty, great food, and nice people.
---
Friday, March 26th
Kia Ora! (that is hello in Maori-speak, the native language of New Zealand) Left LAX for Auckland at 830pm. Before boarding the plane, stopped into the airport pub, where about 20 Aussies were just completing their tour of the US. After boarding our plane we were detained at the gate for 30 mins, as they had to remove one such drunk Aussie from the plane. Better luck next time mate! The flight was fun, aside from Mr. Fidget Man who sat directly in front of Mike (coworker). Mike and I had to pick up our drinks every time this guy moved.. but that didn't stop me from spilling hot tea all over myself an hour into the flight. Well, at least it was warm. Attempted sleep on the plane, didn't happen. Qantas has some great movies though, so I was able to catch up on some new releases.
---
Sunday, March 28th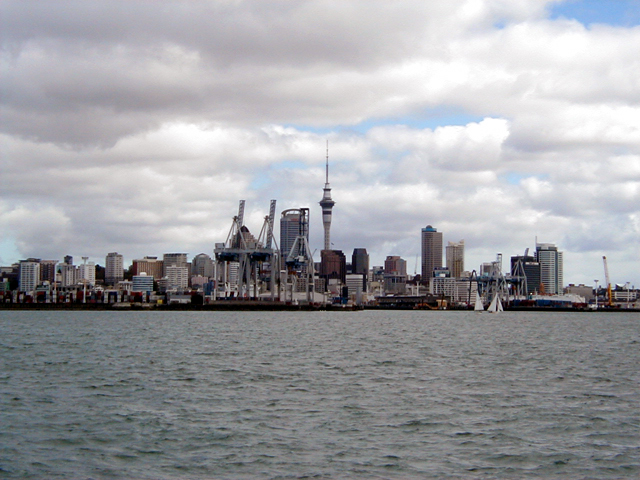 5 am, arrive in Auckland. No, not a 48 hour plane ride, just crossing the international date line.. Our cab driver Jeff gave us a little history on the way to the hotel: -One Tree Hill actually doesn't have a tree at all. They cut it down because it was diseased. And according to him "it was a crummy old pine tree anyhow" -The Sanitarium is not for crazy people, but instead they make breakfast cereal. I suppose this is a good place to throw in a Fruit Loops joke. -Some other facts, which my brain was too tired to process Checked into the hotel, which is a fairly nice 1 bdr suite, took a nap. Awoke and it was only 11 am. Henceforth started the longest day in history. Mike and I walked down Queen st, downtown auckland to the wharf, checking out the various shops, and having some food. Here is what we learned: -you don't have to tip waiters.. it's not expected -it is really hard to understand an asian person with a kiwi accent -diet coke just doesn't taste the same -when crossing the street, look right first! -thai BBQ restaurants don't bother to de-head the ducks before deep frying them. I can never look a duck in the eye again. -no one in new zealand seems to know what earplugs are, and you don't want to ask where the nearest drug store is, or they will think you are a junkie. After a day of shopping and adventuring, dining at our hotel, a good nights sleep was in order.
---
Monday, March 29th
First day into work, we carpooled to avoid "stupid american driver" syndrome. Our offices are about 30 mins outside of town in an old military hangar on an air force base. The base seems like something out of the 40's.. people hanging their washing out in the back yard.... etc. The airbase chapel is painted black. I thought that was sacreligious or something?? Spent the day at work, managing various computer crisises and late shipments. Here is what I have learned so far: -craft service is more like crap service. I expect to lose weight since the food they serve us at the office. fish pie was the fare of the day, along with some mystery meat mixed up with soggy chow mein noodles. don't expect any coffee to be brewing here.. its a very do it yourself operation. -i know more than our Avid tech support guys about how to fix the computers...not a good sign... -i've spent a lot of time in the closet.. the supply closet that is..which is actually a lead room that was built in the hangar to shield radiation. It's a little scary going in there. sort of like a meat locker. -plugs have to be converted... you know the drill.. -the hole in the ozone layer is apparently directly above n.z.... if you are in the sun for longer than 15 mins you start to burn and shrivel up. sunscreen is a big commodity here. after a long day we returned to the hotel and the gang headed out to a belgian bar where we had some great food and spirits. thankfully it is across the street from our hotel, so the commute was a cinch. returned to the hotel, and crashed, hard. oh, but no... 245 am bang bang bang what is that noise? is someone knocking at my door? oh wait, it's getting faster...now there is a moaning sound. oh, my, just the neighbors going at it.. for over an hour.. I pounded on the wall a few times, but that didn't help too much.. so needless to say.. i am a little more tired at work today from some sleep deprivation.
---
Tuesday, March 30th

work work work, everything going smoothly.. mince pie for lunch.. hmmm.. i'm definately not born to be a kiwi. but they do have some yummy granola bars, called "muesli bars". ketchup is called "tomato sauce" elevators are lifts, cars "give way" instead of yield, and you "take away" food instead of carry out/to go. I haven't even attempted to ask for a doggy bag... who knows what i would get. You also can't order a black coffee.. you will instead get a double shot of expresso. ok, it is 630 pm now, and the work gang is heading out to a thai restaurant in a suburb called ponsonby. It supposedly rocks. I'm looking forward to something to eat besides mutton, lamb, fish...more real adventures coming soon (when i can actually visit some places instead of being at work) Hope you are all well!
Tues night.. the work gang and I went out for delicious thai food in downtown Ponsonby, a suburb of Auckland. The streets remind me a bit of Eagle Rock or Pasadena, but the lanes on the road are tiny. It is also very hilly, so much like San Francisco but on a smaller scale. Sawadee was the restaurant.. excellent food. After the gang and I crammed into our rental car, we saw a Bill Cosby sticker on the side of the building.. hence started the impressions, which I captured on video.. Looked like an episode of Cops, but on the wrong side of the road. returned to the hotel and crashed out..

---
Wednesday, March 31st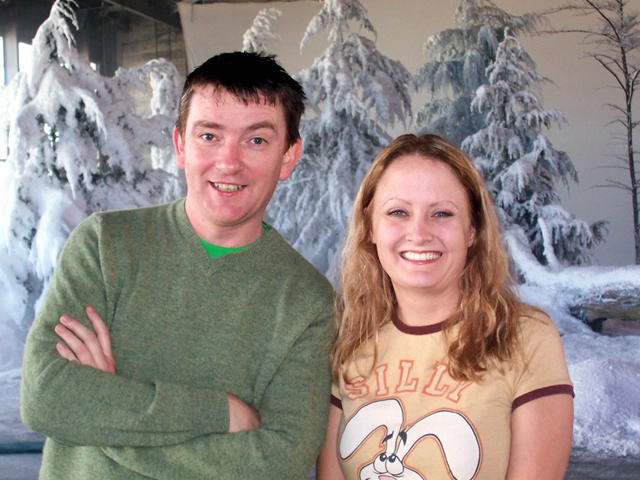 work, work, more work. Explored the grounds on the studio / air force base.. we watched the "snow test" being prepared for a bit.. magic of movies.. a guy with a fire hose type thing shooting bits of specialty shredded paper all over the fake pine trees. Also toured the art department to see all the miniatures for set design. Drove myself home in the rental car .. made it safely, but turned the windshield wipers on one too many times when making turns. Note to self: get in right side of the car in the morning to avoid looking like dumb american. Had dinner at Instanbul falafel & pizza.. yes.. you read that right..and it was really good! did a little trinket shopping and came back for laundry night at the hotel suite, where Alina (coworker) and I watched reruns of Jackass (or should I say we turned away and didn't watch certain parts) and ordered some room service dessert. The exchange rate here is about 67 cents to the dollar.. so things seem to cost a lot.. 12$ desserts are extravagant in the states, no? So much for my "i'm going to swim every night after work at the hotel pool" plan.. apparently the last day of the month is routine pool cleaning day, closed... More things I have learned: -I weigh about 7 1/2 in Stones ( those must be some pretty heavy stones!) -Vegemite is yeast paste. Men at Work really liked this crap? -Napkins are called serviettes. People even WALK on the left side of the sidewalk. -No matter what country you are in, the hotel housekeeping staff doesn't speak english. -there are two flush buttons on the toilets.. havent figure this one out yet.. assuming it has something to do with the consistency of what you are flushing.. haha.
---
Thursday, April 1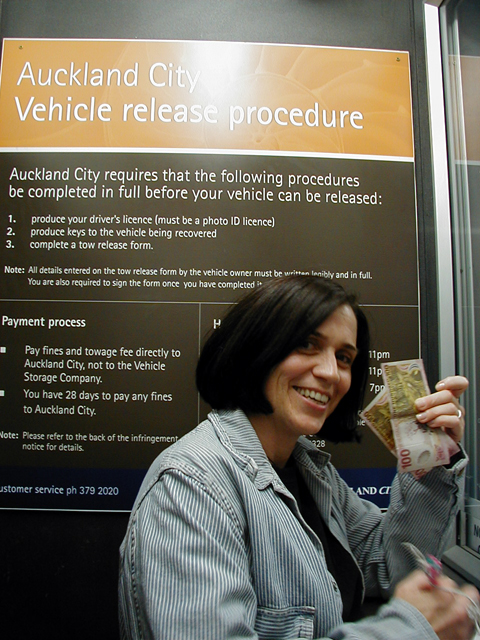 drove alone to work, made it safely and only turned my windsheild wipers on twice. played 4-square at lunch with work gang (pics to follow).. i haven't played this since 6th grade. good workout! Evening.. never a dull moment.. ran into Kimberly (asst costume designer) in the hotel elevator (its very melrose place with us all living there ) and we decided to venture out for dinner on the town. after a few wrong turns and uturns, we made it to Parnell, a suburb of Auckland with a street full of shops and restaurants. Parking was hard, so we pulled into a little city car park. After fumbling for 5$ for the ticket to display in the window, we headed to Iqaucu restaraunt. The food was delicious.. grilled avocado, along with some other corn cakes etc.. heading back to the car, we asked some blokes to take a pic of us, and one of them wanted to be in it, so we obliged..we walk back to the car..well.. at least the spot where we parked the car.. and learned our first bitter lesson about parking in NZ. The parking stub had run out about 40mins before we returned (our food took a long time!) and those auckland parking nazi's must have been waiting for the clock to run out... we hailed a cab to the parking tow lot, where 170$ later (plus cab fare ) we drove out with kimberly's rental car. I tried my best to get us the stupid american discount, but mr grumpy gills behind the counter didn't want to help. in fact, he told us he should charge us double for being american. Then after winding our way thru side streets trying to figure out where the heck we were, we made it back to downtown where we subsequently had to drive thru an alcohol checkpoint. Kimberly's face looked a little freaked with the policewoman shoved a wandlike device in her face and said "state your name and address into the box"... Kimberly passed with flying colors, but i am convinced that her car was towed for a reason.. the alcohol limit is something like .06 here, and im sure one glass of wine could put you over the limit. so , better to be in hock at the tow yard than calling our bosses from a NZ jail. I only wish I had thought fast enough to snap a pic of her breathalizer test. haha. returned home, and Kimberly says im too expensive of a date to go out with again..
---
Friday, April 2
back to work, finally a good lunch of rigatoni and meat sauce.. yahoo. but the office kitchen is still lacking.. the food request board says "please buy us something sweet to eat" who knows what tonights adventures hold.. tomorrow a group of us are taking the ferry to waiheke island (pronounced Why- hickie) to take an hour horseback ride on the island and explore the wineries and shops there. Sunday some of us are heading to Rangitoto Island, which is a volcano... it is an uninhabited island across the bay, I'll keep my eye out for Gilligan. Stay tuned for the weekend edition, coming soon! pics to follow!
---
Volume 3.. return of the king. Journal from "En Zed" IT has been brought to my attention that my travel journals are too detailed. What do I have to say to that ? "slap my ass and call me a dingo" (line courtesy of some aussies) Side note for Brett robinson ---I saw a man cross the road today.
Saturday, April 3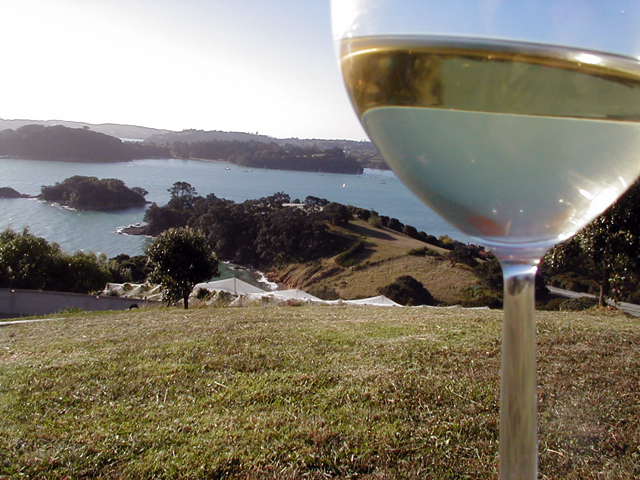 The crew headed out bright and early (not easy getting these drinkers up at that hour) on the ferry for Waiheke Island. We headed to the Sunset Corral where we saddled up with our horses, as well as all putting on required safety helmets ( we did look like a group from the little yellow school bus). Our guide Adam led us on a 1 hr tour of church bay. I must say I have never seen anything so beautiful in my life. The views were spectacular to say the least... our horses were quite characters.. i demanded (some things you have to fight for) Strawberry Pie, a brown and white spotted horse that looks much like my children at home. They should have told me she was named this because she was a gluttonous pig who never stopped eating. Every moment she would see grass she would stop.. and there is a LOT of grass on that island. She was determined not to let Mike's horse get past us in the line up.. so every time she held up the line, she would gallop ahead full speed when Sahara tried to pass. Needless to say, my ass is sore, or is my hide chapped?. Our gang then headed to Mudbrick Winery, where we were turned away because we didn't have a booking. Thankfully we had obtained a business card for a taxi driver, Rochelle, who then became our new island mate and took us from the elitest winery to an even better one, Te Whau ( tay-Fa) Winery.. where our gluttony began. About 5 bottles of wine and countless seafood, cheese, and dessert platters later, we retired to the hillside which boasted a 360 degree view of the bay. It really was like sitting on top of the world. Of course, after the recent imbibings, we all thought we were very artistic photographers..can't wait to see what some of the pics turned out like. Several inside jokes were born, from the Te Whau Angels to Baba Ganush. (you have to be part of the elite bobblehead horseriding club to get these) Rochelle returned to drive us back to the ferry, and we made it safely (thank god that drunk walking is legal) to our hotel.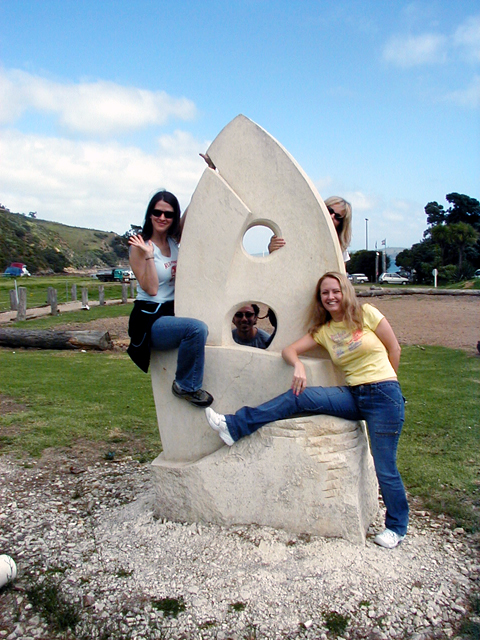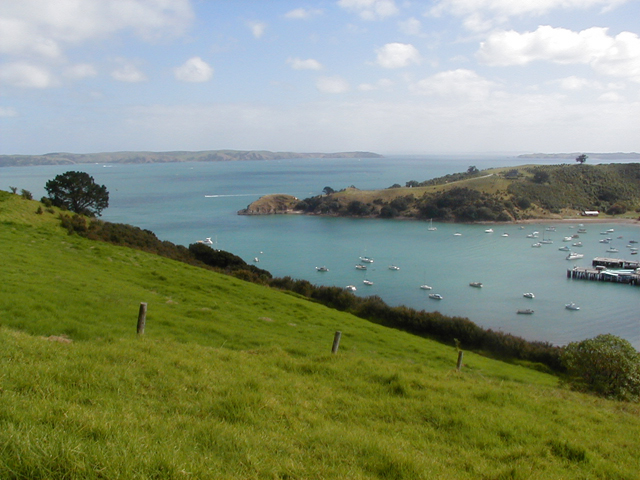 ---
Sunday, April 4th
Ventured out alone by ferry to Rangitoto Island, an uninhabited island about 20 mins off the coast of Auckland. The island is a non active volcano, that erupted some 600 yrs ago. I took the 2 Km trek up to the crater summit, which stands about 250meters about sea level. (this means nothing to me, but it was long and tiring) The brochure said "easy" hike.. but it was a fairly steep incline for an hour, on black lava gravel paths..I must be out of shape. Along the way to the top I had an encounter with New Zealand's other national bird.. no not the kiwi, but the bumblebee. I haven't been stung since 1978. Damn, still hurts as I write this. Thankfully I am not allergic.. some other hikers kept checking in with me to make sure I was "still with them". Reaching the top, you can look directly into the crater (which is now filled with brush) and take a walk around the rim of the crater. The views were once again, amazing. Returned back to town, had dinner at Mexican Cafe with Tom and Mike, who are still adjusting to the time difference. More things I have learned: -Mexicans in N.Z. don't know what cilantro is (see coriander) -the New Zealand vowel system is as follows : A = Eye E= Aye I=Aye O=Ohh U=Yewe -rugby. need I say more. -you can't rip New Zealand money, but you can stretch it. (unless you are Mike Makara) -You have to go to a Chemist (Keem-isst) to get makeup, lotion, etc. -Never pick the spotted horse, and make sure your stirrups are the right length -Don't wear yellow to an Island full of bees -All Blacks is not a racist store, but rugby wear -Starbucks tastes the same no matter where you are More to come. (sorry to those of you who thought this was the last installment) Janelle
---
New Zealand Journal 4 The Legend Continues..
This is a long one, so get a snack, take your shoes off and make yourself comfortable...
More education from abroad:
-Calories here are called "Energy." So, I'm not gaining travel weight, I'm just getting more active!
-McDonalds commercials here aren't afraid to show butt cracks
-according to Maori traditions, you are not supposed to lean your buttocks on the food table, and what ever you do, never turn your back on anyone.
-New Zealand drivers not only drive on the wrong side of the road, but they also like to drive down the center line.

Tuesday, April 6

Dear Diary, the people at work are really mean and giving me shit about my journals. I, however, out of the goodness of my heart, will not mention their names (cough cough slab chapla ahem)
Today our crew packed into a bus and headed to Waitakere City (west of Auckland about 40 mins) for a Powhiri (Maori/Native NZ people celebration/ceremony welcoming our production to their country)
I captured our transportation manager on camera telling me that I was not allowed to film the Powhiri, but once we entered the Marae (their sacred grounds) we felt like we were on a press conference. There were several news channels, reporters and our own DVD crew filming the event. I didn't feel so guilty pulling my camera out later. As tradition has it, the women walked ahead of the men onto the site (as it should be!!) and the men sat in front of the women during the speeches ( how screwed up is that???). We were greeted by several warrior like men who stuck their tongues out at us, pounded their chests, and bulged their eyes. Surely I jest, but at one point in the "challenge" ceremony I got teary. We faced the warriors, with two female Maoris on our side. The two women sang a tune that sounded like weeping, and the choir-like group of children across the way also sang native songs to welcome us. Once we were "accepted", our director Andrew picked up the leaf that was offered to our group as a symbol of our welcome. We then sat and listened to various Maori and NZ dignitaries speak...which was mostly in Maori, the native language, and we went through many seasons (wind, rain, and bright sun) as we listened. The only thing I could make out in the whole thing was "shrek". Apparently, Maoris are known for their proclivity to talk. And talk... (but in Maori) We laughed and pretended to be happy about the fact that we were getting drenched. An eternity later (or about 30 mins) we retired, shoeless, to their temple, where we bumped noses ( the Maori greeting) with the dignitaries as we entered the sacred space. We sat on cushions around the room as one of their leaders explained the meaning of the space. The building was built entirely from native materials (abalone shells,wood carvings, and bamboo dyed differnet colors by lava and other dirts and woven together. The leader explained that the totem-like carvings represented all of the spirits of our ancestors before us, and the ceiling was like the ribcage of the spirit house. We were welcomed as spirits to be part of that house. We then retired to the community center where the high schoolers performed various Maori dances (caught most on tape) while we appetized on asparagus wrapped in bread and other h'ourdeurves. The eye bulge and tongue sticking out part of the dance is a little freaky, but very passionate and intense.(see tape.) We all returned to the office, and had lunch, AGAIN.
---
Wednesday, April 7th
Trained my replacements at work, and a group of us dined at My Thai.. great thai food once again.
---
Thursday, April 8th
Last day on the job, sad to leave after being on the film for a year. Must be like the feeling of giving a child up for adoption. I will miss my Narnia family! Sim and I tried to walk around the base to the bay during lunch, until we were slapped on the back of the hand by an airforce official who told us that "basically, you can't walk anywhere outside of your office". We got to take a peek at the wardrobe built by construction for the film.. let's see how much of Narnia they can fit into it!! In the evening, a large work group gathered at "Boogie Wonderland", a 70's retro dance club complete with lit block dancefloor and about 20 disco balls.
---
Friday April 9th
A lazy day around town (which was mostly shut down for good friday), Mike V. and I walked around Albert Park, where there are several giant creepy trees. A few of us wandered to a little side street and had a nice quiet dinner at a tapas restaurant.
---
Saturday, April 10th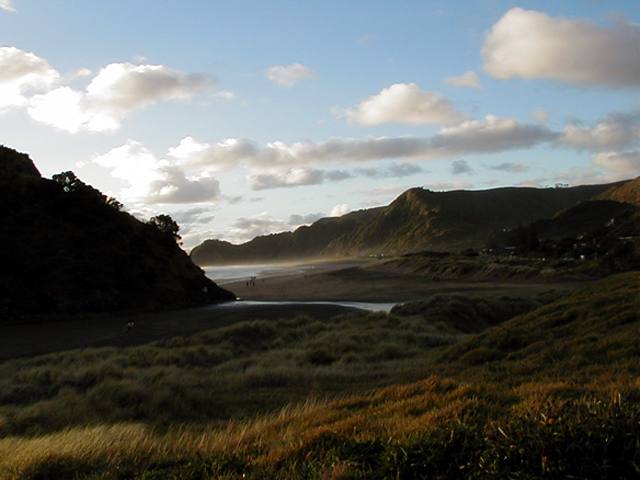 7 of us suited up, drove down to Piha (black sand beach just over the Waitakere Ranges) where we met up with our adventure guide, Cam. We squeezed ourselves into full body wetsuits and tramped (this is what they call hiking) up to the top of KiteKite Falls. Our first challenge was to jump into a freezing cold pool in the river (everyone but me did the high jump.. call me wimpy..) I think my heart stopped for a moment when I hit the water..
we then did our first repel down a short rocky cliff, where I soon learned it is hard to hold onto a repelling rope with long fingernails. The next repel (or abseil) was down the side of a 200 ft cliff alongside the falls. I was the first to go, and when I came to the edge I saw about 30 hikers below watching...time to put on the bad ass repeller routine..
I made it to the bottom safely, and my instructions were to unhook from the rope, swim to the middle of the pool and tug the rope. This may have been much easier if the rope had been long enough.. but I was dangling just at the cliffside, in the freezing water, and unable to unhook..I felt like a navy seal.. haha.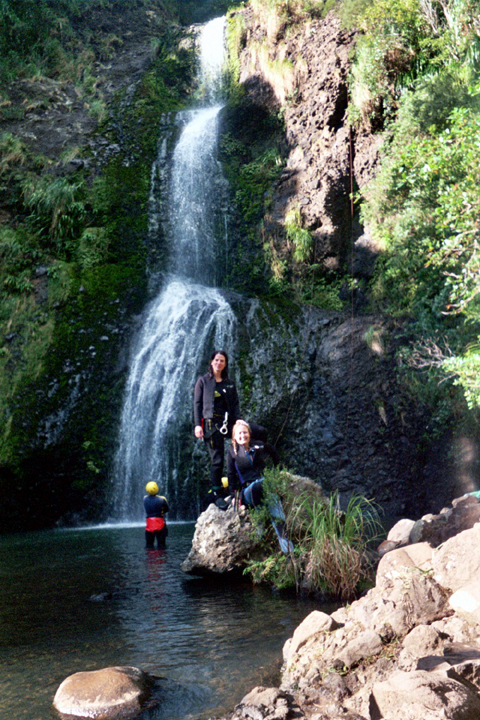 After each of us made it down, we stopped at the base of the falls for lunch, and the tromped through the river to another smaller waterfall. This time, we repelled within the waterfall... it was cold and narrow and slippery.. i'll choose height over difficulty anyday!
after a few more pool jumps, crawling thru holes in rocks and swimming through caves and pools, we made it back to the trail. After warming up at the beach, we saw an incredible sunset, and heading over to the RAF (mess hall) for beers and chow. Fell asleep the minute my head hit the pillow. Definately one of the most adventurous things I have ever done in my life...(the canyoning, not the sleeping)
---
Sunday April 11th
Kimberly drove a group of us up the coast to Warkworth, where we saw an 800 yr old Kauri tree and a small Kauri forest. We then took a smaller side road out to Goat Island, which is a marine reserve. The rain clouds headed our way, so we spent just a bit of time looking in the tide pools and beachcombing. We also were able to see an albatross, which was being brought to the island to be released. Upon our return, we got stuck in New Zealand version of rush hour for about 2 hrs (holiday traffic on a one lane road). Returning to Auckland, we went to the old-now-favorite restaurant, Belgian Beer.
---
Monday April 12th
After doing a little midmorning shopping and being evacuated from the store by my first New Zealand fire (building next door to our hotel was ablaze, and the shop was full of some), I headed off to pick up my rental car. Rental heap? I drove north to the Bay of Islands (3 hrs), and stopped in Whangerei to view the falls and and eat the native food, Burger King. I arrived in the Bay of Islands just as the sun was setting and unclenched my grip on the steering wheel (lots of curvy small roads on the way up).
---
Tuesday, April 13th
I headed down to the wharf where I was immediately greeted by New Zealand's third largest bird, the sand fly. Those suckers attack worse than mosquitos.. I then boarded the Dolphin Adventure boat, where about 25 of us cruised out into the bay in search of mammal life. Our guide "Floppy" squealed when she spotted some dolphins in a little inlet. We floated in that inlet for about an hour watching the dolphin pod swim, jump, play... N.Z. has a "baby dolphin" law which prohibits humans from swimming with dolphins if there are babies with the pod.. and our pod had about 3 babies, so we were not allowed to actually "swim" with them, but it was great to see them in their natural environment. We then went cruised thru the infamous "hole in the rock", and returned to another wharf on Russell, another city in the bay of Islands. I walked over to Christ Church, the oldest church in N.Z., and took some arty cemetary photos.
---
Wednesday, April 14th
Bright and early I boarded a bus with some friends I had met in my hotel, and we went on the Cape Reinga tour. The bus first took us to another Kauri forest (seen one, you seen em all ) and then we drove up the coast to 90 mile beach. The bus drives along the beach, which is actually about 45 miles long, and then drives up a quicksand stream to huge sand dunes. We then pulled out the boogie boards and went sledding down the dunes. All great and fun until some poor woman had an epileptic attack. We then reboarded the bus, drove a bit further up to Cape Reinga and the Lighthouse. This is the northern most tip of new Zealand, and where the Tasman Sea and the South Pacific Ocean meet. You could see the seperation in the two oceans, where the tides were going against each other. The view was spectacular (like every other thing in NZ seems to be). After a few more touristy stops, we arrived back at our hotel in the evening, exhausted. I then jumped into my rental heap, and drove back to Auckland. I gripped the steering wheel even tighter this time, as it was raining the whole way down, and New Zealanders seem to like putting signs up on the road like "No Fatal Accidents This Month" or " Danger, High Accident Zone". I saw a smashed car being towed away, so I kept my hands at 2 and 10 on the wheel.
---
Thursday, April 15
I headed out by plane to Queenstown, sitting next to a very chatty man who wanted to know all about the movie industry. The aerial views were amazing, and I was able to tour a lot of the country out the plane window. Queenstown is set upon Lake Wakatipu which means something like "giant who fell asleep". The legend has it that a giant was burned, and the fire was so hot that it burned a hole in the ground, and the snow melted and filled the hole, which is now known as Lake W. After checking into my hotel and getting settled, I wandered the wharf shops and Queenstown Gardens. The scenery was incredible, and indescribable.
---
Friday, April 16
Took the famous Shotover Jet boat ride, which is a fast jet boat ride down the Shotover River Canyon. The boat goes about 50 mph down a river with steep cliffs on either side, with about 15 360 degree spins in the boat. It was like a great rollercoaster, but about 20 mins longer. With my now-wet-hair-look, I walked over to the gondola and rode to the top. Once again, indescribable views. I think it was sitting in the bar overlooking the world, that i decided that too much beauty at one time can be hazardous. My brain is on overload from all this gorgeous scenery..trying to remember it all...I also watched a cheesy movie up there called Kiwi Magic.. it must have been made in the 80s judging by the hairstyles..
---
Saturday, April 17th
After a much needed "sleeping in" day, I walked over to the wharf and took the Ernslaw Steamboat Cruise across the lake to Arthur's Pass Farm. We were treated to tea and cakes at the colonel's homestead, a tour of the gardens and feeding of goats, bulls and deer, and the grand finale of a sheep herding show and sheep shearing demonstration. See me for copies of Sheep Magic, the amazing world of NZ sheep shearing. Later, I wandered around town and found myself at the Loaded Hog.. getting loading and eating like a hog? Well, sort of.
---
Sunday, April 18th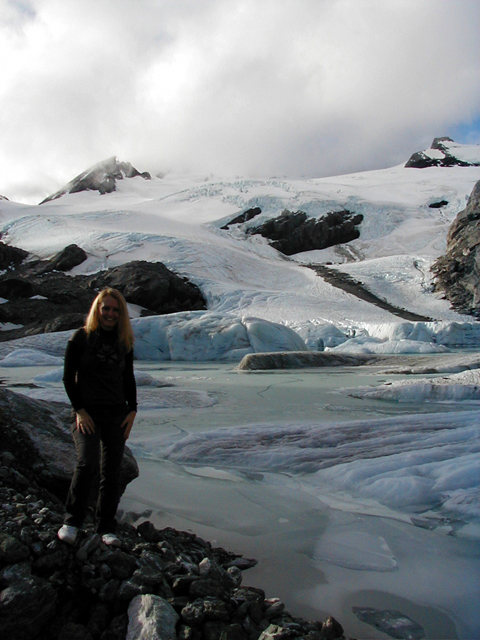 My last official vacation day in NZ. What does this mean? Well, means that my travel journal is almost done (sorry Slab)..
I prayed to the weather gods before sleeping, as it has been overcast and rainy and foggy most of the time I have been in Queenstown.. alas, i woke up this morning, opened the curtains and said "YES!".. clear weather=helicopter flight to Milford Sound. Myself and two others from my hotel boarded our helicopter, and flew across the most amazing landscapes I have ever seen in my life. Many of the areas were used in the filming of Lord of the Rings, and our flight was about 45 minutes from Queenstown to Milford Sound, which is a tiny cruise ship community right on the top of the Fiordland National Park. My head is still weaving from the helicopter flight..
We landed in Milford, walked around a bit, then returned to the helicopter for the highlight of the trip (as if the scenery wasn't enough)... a landing on a glacier high above the mountains. The glacier was very blue-green, which our pilot explained was coloring from the rocks that were ground up and made part of the glaciers. We landed on a rock, near a pool of icy water with huge chunks of glacier floating nearby. He also flew us over the huge rifts in the glacier, caverns and cracks about 50 ft. deep... as well as some of the Superman's lair like natural ice sculptures. We then flew into green valleys, snow covered peaks, and dirt brown mountains...the landscape changed every 5 mins. We chased a few wild goat with the helicopter, as well as saw some of the filming locations for LOTR and Vertical Limit. This flight was a perfect round out to an amazing journey, and the weather couldn't have been better... puffy white clouds, clear blue skies..

Well folks, this concludes my journey journal ( I know some of you are so dissapointed...) Tomorrow I fly out to LAX, with a stop in Christchurch and Auckland.. not guessing I will see much from the plane, but if I do, I'll be sure to let you know.....
PS I love the fact that I leave on Monday at 10 am, travel about 16 hrs and arrive Monday at 730 am. I'm hoping to look younger when I land at LAX.